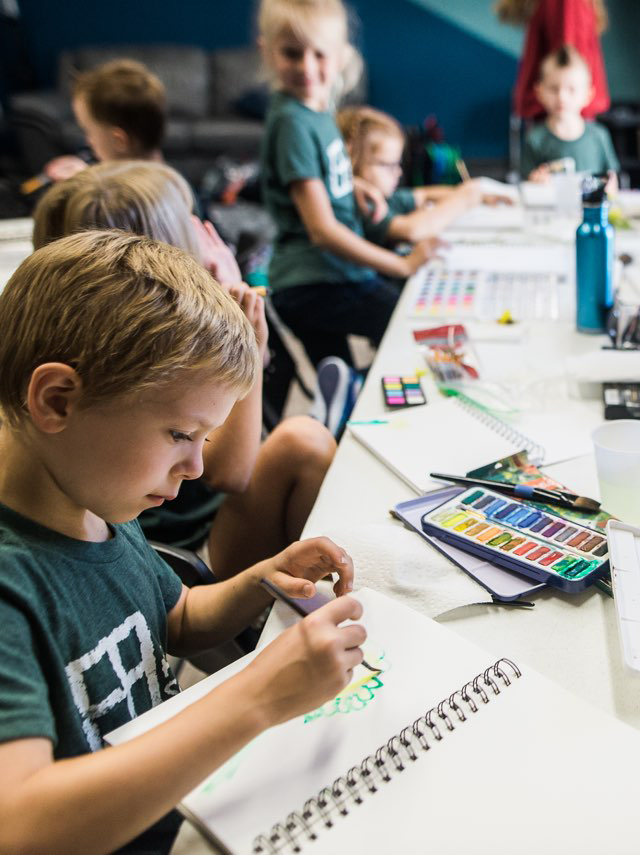 Four Square Enrichment is a Christian community that meets on Mondays for twelve weeks per semester at Rush Creek Bible Church in Byron Center, MI. It is a drop-off program and parents are not required to volunteer. We welcome and encourage families to join us for chapel worship at 8:45am.
Beginning at 9am, students rotate through four 45-minute enrichment classes. We offer a variety of classes designed to meet the different needs of preschool, elementary, middle and high school students.
Four Square is inspired by Charlotte Mason's principles of education. She held children in the highest esteem and emphasized the value of living literature, hands-on learning, nature study, good habits and the strong faith of a child.
We end our year with a family Celebration Night that includes a musical presentation and an art fair. 
Four Square Enrichment is designed to compliment Four Square Academic or to stand on its own, based on parent preferences.
"Our aim in education is to give a full life. We owe it to them to initiate an immense number of interests. Life should be all living, and not merely a tedious passing of time; not all doing or all feeling or all thinking - the strain would be too great - but, all living; that is to say, we should be in touch wherever we go, whatever we hear, whatever we see, with some manner of vital interest."
Enrichment Classes
2021-2022
All of our classes feature activities that are best experienced in a community setting and that enrich a home education.
We offer optional a la carte classes in the afternoon to customize a student's experience and extend their day of enrichment.
There is a required, non-refundable enrichment registration fee of $50/student.
The 2021-2022 PreK-8th Grade Enrichment fee is $475/student and includes 24 weeks of classes.
The 2021-2022 K-8th Grade A la Carte fee is $350/student and includes two classes for 24 weeks.
The supply list includes links to suggested literature and supplies. As an Amazon Associate, we may earn a small commission from qualifying purchases at no extra expense to you. The HSB is our recommended resource for new/used literature.
2021-2022
Open House & Picture Day
August 16
10am-noon
---

Classes
September 13, 20, 27
October 4, 11, 18, 25
November 1, 8, 15, 22, 29
January 24, 31
February 7, 14, 21, 28
March 14, 21, 28
April 11, 18, 25
---

Theater Night
April 22, 2022
6-8pm
---

Celebration Night
April 25, 2022
6-8pm
Snow Day Cancellation follows Byron Center Schools. Snow makeup date is March 7, 2022.